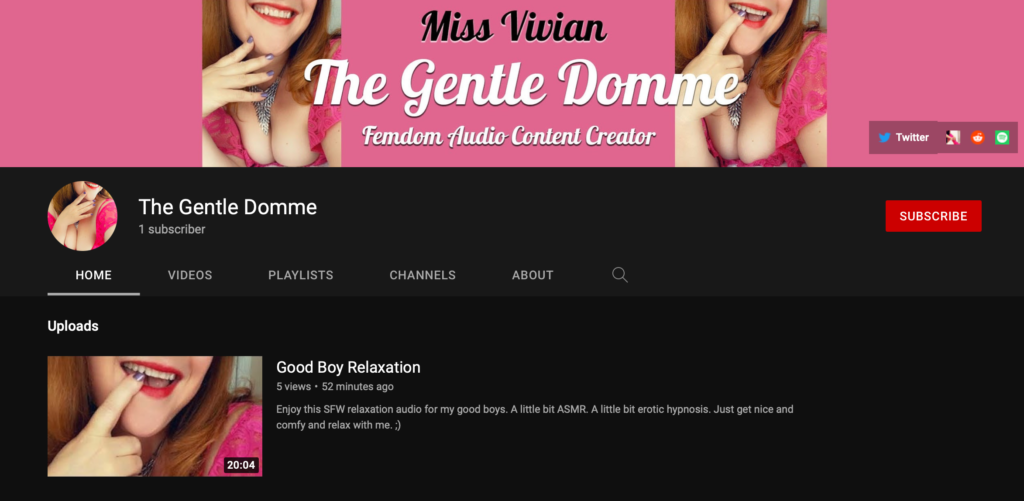 Hello, my Darling Deviants!
I know I've been derelict in my blog writing lately. Honestly, I spend so much time talking and writing to my good boys and making content for them, sometimes I feel at a bit of a loss when I go to write something here!
I resolve in the New Year to write more on my blog!
Meanwhile, though, I do have a new treat for you! I made a YouTube channel! This was tricky, since I don't produce video content. But with a little help, I figured it out, and she's up and running.
Enjoy my first video there, a SFW gentle femdom relaxation audio for good boys. It's a little bit ASMR, a little bit erotic hypnosis. Basically, you can get nice and comfy, settle in to listen and either get turned or fall asleep–or both–or one after the other. (I suggest the getting turned on before the falling asleep, but that's your business.)
I believe I will be posting mainly (entirely?) SFW audios on YouTube, at least until I figure out what will get me banned and what won't. I like to stay on the right side of the Google law.
Enjoy! And, as always, you can reach me on Niteflirt or I Want Clips or buy my content on Clips4Sale. I also take custom audio requests. Just email me at thegentledomme@gmail.com for more information.