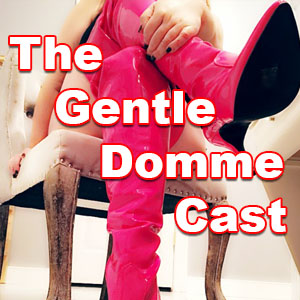 Hello, my Darling Deviants!
It's episode 21 of The Gentle Dommecast! Pull up a chair and have a glass of champagne as we come of age!
In this episode, Miss Vivian and The Rough Subbe discuss subspace, cuckolding (again), and there's even a little face slapping fun, if you make it to the end. There's also some initial talk about the great erotic audio class I took with @TheSecretSubjct….and licking microphones? Maybe someone can explain this. 
First, we talk about what subspace is, and our own personal experiences with it, both good and bad! (Be careful to negotiate and communicate!) TRS brings up an especially hot encounter involving face slapping that led to feelings of subspace, and I ask about topspace/dommespace. Is it a thing? Does it exist?
Then we return to the topic of cuckolding, and I specifically talk about why I think of cuckolding as a man's kink (and why I think of cuckqueaning as a woman's kink). I like fantasizing about cuckolding, but I have some questions about how it plays out in reality.
Last, as a reward for being such a good boy, TRS gets a little face slapping on the podcast! I was kind of worried you wouldn't be able to hear, but it was crystal clear!
As always, we hope you enjoy! I'm specifically trying to build up my Twitter account, so please follow @thegentledomme, if you haven't already!