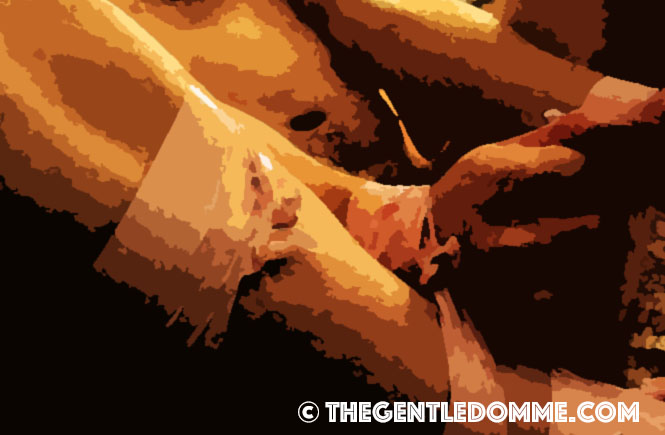 Most people who hear the word "femdom" initially have a specific image in mind. Usually, it's of a beautiful, tall, stern woman in five inch boots sneering down at a man on the ground and degrading him by calling him humiliating names or "forcing" him to commit potentially demeaning acts like licking her boots or barking like a dog. Most of the femdom presented in movies and in the media often seems like this kind of caricature. It may be hot to some people. But it also might be scary or intimidating.
Some femdom really is harsh and cold or may appear harsh and cold to outsiders. Sometimes, it's paid femdom that's provided by pro-dommes, women who are financially compensated to dominate men and cater to their fantasies. It's also often the kind of femdom you'll usually see presented in porn. But some women and men do get off on being cold and demanding and physically or emotionally sadistic to their partners, for their mutual enjoyment. And there's nothing wrong with this if both parties are consenting adults.
However, maybe you've secretly harbored fantasies about worshipping a woman for years. But these fantasies are more loving. More affectionate. Maybe you've wanted to give your partner all the oral sex she wants while she lies back and enjoys, and you expect nothing in return. Or you've wanted her to take charge during sex, be on top and direct you to do what she desires. Or perhaps you've fantasized about taking control of your boyfriend or husband, slowly and lovingly teasing him until he's a desperate pleading mess of hot man in your hands. Sexy, right?
There's a name for female domination that has this loving, affectionate quality to it. It's called gentle femdom, or GFD for short.
There's a lot of debate about what gentle femdom is and isn't, and that's because the term is subjective. For example, some submissives would feel very loved by a domme if they were given the honor of licking her boots or barking like a dog for her. And some dommes would lovingly call a submissive a degrading name if they knew his limits and that he derived pleasure out of it. So, it's not that only gentle femdom can incorporate elements of love and affection.
There's a lot of debate about what gentle femdom is and isn't, and that's because the term is subjective.
However, usually gentle femdom is just that—gentle. It tends to steer away from degradation and humiliation and instead places a woman in a caring, kind and trustworthy seat of power where she can feel free to guide, tease, treat or even her punish her partner in an affectionate way. With a few exceptions, it's not so much that the activities gentle dommes and subs participate in are that different from what you would see in traditional femdom. It's the way in which they participate in those activities that might differ.
For an example, in a less gentle femdom relationship, a woman might put her partner in chastity for a period of time, telling him that he's not good enough to be useful to her for PIV sex. Therefore, he will stay locked up in a chastity device until he proves otherwise—which might be never. She might mock his size or stamina as part of the dynamic. Some of the eroticism in the scene is likely the mocking and the pain.
And to be clear, as long as both people enthusiastically consent to this kind of play, there's nothing wrong with it. All BDSM should be consensual and rely on clear communication about limits and boundaries.
A gentle femdom relationship could also incorporate chastity. But it might look very different. For example, instead of using a chastity device, the couple might simply agree that he will refrain from orgasming until a set period time has passed or until she allows it. Instead of mocking her partner about size, stamina or usefulness, a gentle domme might praise his patience and willingness to deny himself to display just how much he wants to please her.
In both examples, the couples are playing with chastity and denial. It's just that the ways they play with them are different. But, ultimately, the labels are really only defined by the people in the relationship.
There can be benefits to gentle femdom for both men and woman. Often women are introduced to the concept of femdom by a male partner who admits he has sexual fantasies he'd like her to help fulfill. But the more typical illustration of femdom women are exposed to through porn can seem unnerving or unappealing. Women might feel they have to act "mean" to give their partners what they want. Or they might feel they need to display a harsh kind of confidence and pretend to be demanding. And that can be a big turn off for a lot of women.
Exposure to examples of gentle femdom can show women that they can take control in a loving way. They don't have to put on an act or pretend to be cruel. They can just be assertive and playful as themselves and get what they want in the bedroom while also turning on their partners.
Exposure to examples of gentle femdom can show women that they can take control in a loving way.
Conversely, some men might enjoy the idea of having a woman take control, treating her like a queen or a goddess, pleasuring her or allowing themselves to simply receive sensations at their partner's pace—something that men aren't encouraged to do in a sexual culture that values bigger, faster, longer. But that doesn't mean necessarily that they want to be degraded or humiliated, or even mean that they are masochists and enjoy pain. Gentle femdom allows men to free themselves from control and experience the loving dominance of a woman through praise and approval.
If you do more reading or researching, you will likely hear other definitions of gentle femdom. Some people feel that certain acts can't be gentle while others believe that no act does or doesn't define GFD, and that it all has to do with the attitude of the people playing with the power exchange. But if you've been curious about BDSM and had fantasies about women taking charge, gentle femdom can be a sweet and sexy introduction to the wild, wide, wonderful world of kink. 
Like my blog? Follow me on Twitter.