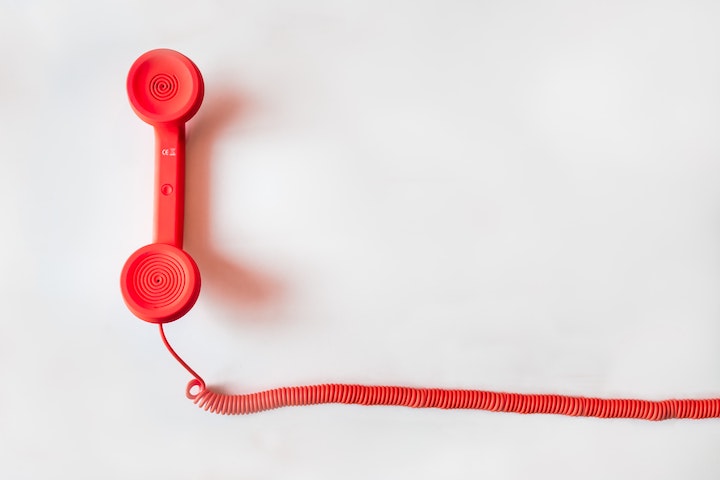 Hello my daring deviants! Actually, that was a typo, and it was supposed to be "darling," but today is Halloween. So, be DARING!
For close to the last week, I've been experimenting with doing phone sex. I could say I'm a "phone actress." I mean—sure. But if I'm an actress, I'm pretty exclusively acting in erotica!
It has been an interesting week. I'm actually very glad I'm trying this. It's wild. It's something I had occasionally thought of trying in the past but had always been too afraid and also something I didn't really know how to get started doing.
But, weirdly, although I didn't create this blog or any of my social media for that purpose, those are all things that one is encouraged to do when getting into PSO work. So, it wasn't that hard to just jump on in!
I should say that even though I'm doing phone work, a lot of my actual conversations are over chat. That is an option too. And it's part of what I wanted to talk about.
Here are some initial thoughts:
Most of the men have been very nice. Someone insisted I was a man—over chat. That was funny. Maybe he wanted me to be a man? But overall the guys so far have been very polite. I had one guy contact me who wasn't submissive at all, and that was odd. He was nice, but we were definitely NOT in the same universe. I got the feeling he called me because he wanted to "tame," me, which somehow reminded me of men insisting they could turn lesbians straight. It did not happen. We had a pleasant conversation, and I suggested he would be happier talking to someone else.
The phone calls have varied. Initially I was taking calls without any prior interactions, and that was uncomfortable. It would be like a sub showing up and saying, "Do whatever you want with me, Mistress." And I'm like…umm…give me some money and clean the bathroom?
And there IS a lot of, "I want to serve you," and "I'll do anything for you." In person, I would not be having that. But this is over the phone. A surprising number of the men I've talked to have no other experiences with kink. No Fetlife. It's all very undercover for them. They're not saying that to be jerks. What they REALLY want needs to be teased out of them. And this is a service I'm providing. I'm topping. Would I like this in a person I was romantically interested in? NO. But this is not that.
So, I changed up my profile and asked guys to write me first. That worked much better because I could ask them questions before we talked so I had some idea of what they wanted. It made me less nervous, and I think it creates a better experience for them. I am starting to actually enjoy the phone calls.
I'm actually surprised by the number of men with SPH fantasies. I mean—it's more than I would have thought. And it's not something that's a kink of mine, But it is sort of fun? I can be mean over chat or the phone in a way I couldn't be in person.
I have had a few people contact me from my blog or other social media, and those have actually been some of the best calls. They were really fun because the people "knew" me a little bit. They understood my style. So, it was very easy to be myself.
Feet people are fun. And I have had two people contact me about tickling fantasies, but they never went anywhere, which bummed me out, because I really LIKE tickling people. (Although I don't know how that works on the phone.)
And there have been several guys with fantasies and kinks that really overlap with my own. So, those were great! I got to just dirty talk about things I really like to dirty talk about!
And some people buy my audios. And that's really cool. It's very nice to log in to my account and see that someone bought my goodies. I have my Keyholder series up with me reading it out loudand I'm really hoping some people buy those because I was very excited about it. People have liked the stories.
I don't actually take THAT many calls, mostly because I have to take calls in a private place. I am on chat a lot of the day, though, and I've been getting a lot of chat requests. So, I will talk about chat.
I like texting…BUT. I text a lot normally. I am a fast texter. But texting is not paid in the same way that phone calls are paid. And paid chat is draining. And I don't mean "draining" in a hot way. A lot of men want to chat, either because someone is there and they can't talk, or because they're scared of talking on the phone, or because maybe chat is cheaper.
And it is cheaper. A lot cheaper for a lot more work unless someone is a very fast typist. I am—but that doesn't mean the person on the other end is! And it doesn't matter if I am fast if the other person is slow. If there are a few people chatting with me at once, that's not bad (if I can keep them straight in my mind).
But, for instance, I chatted with 1 person for 2 hours the other day, and after fees were removed, I basically made 15 dollars an hour. I don't NEED this job, so that's just not enough money to make, especially if someone wants more than a basic human interaction through words.
I am experimenting with ways to make chat more worth my time, since I do like it, and I think I am somewhat gifted with words. But there's no way for me to raise my chat rate and some guys are offended when I ask for "tributes" to make it more lucrative. One person had an entire role play script OVER CHAT and said I was pushy when I asked for more money to compensate for the time and effort it would take.
I have had a few people approach me for time outside of the service and some of that went well and was a very good experience, and some of that—well—let's say I learned a lesson about trusting people (AKA—usually don't).
A thing I am surprised about…I really like the money. I mean, that should be obvious. I really do enjoy kink. That's no lie. But it is a service, and I admit that when I see that account balance going up, I am excited! You can really make a decent amount of money on your own time doing something that's pretty fun.
And, overall, I like the guys more when they pay more. Does that make me sound shallow and vapid?
I mean, I am NOT in a relationship with the people I'm meeting online. Maybe I could develop relationships with them over time, but they would be different from my in-person relationships. I am really catering to someone's fantasies and helping them realize them—not asking them to bring me ice cream when I have my period and bitch to about my family.
So, the guys who pay more seem to realize this. This is a business transaction. A fun business transaction where I attempt to be very present and engaged. Paying more is an acknowledgement that I am doing good work. I give more, the more I get. I understand that it's expensive, but it's not like there isn't tons of free porn out there. If you are engaging with a sex worker of ANY KIND, either understand that it costs money or–just don't do it. No one is making you. I don't cheap out on my hairdresser when she does my highlights!
And last, I could see getting burned out very quickly. I made a good amount of money in just a few days. I don't know if that would last. I did work a lot—if not on the phone, then on chat or checking all my social media or writing things like this!
But it is a lot of emotional labor. And when my partner wanted to have kinky talk with me, it was hard to switch gears from "doing this for the benefit of someone else" to "doing this for the benefit of me." If I keep doing this I will need to set better time limits so I don't burn myself out emotionally, because I really LIKE kink.
I wouldn't want it to become something in my personal life that felt like….well….work!
Oh yeah…poppers and Gooning? What? I know what poppers are, but they are like an entire THING on PSO. And Gooning? I had literally never heard of this before, and it is creepy!