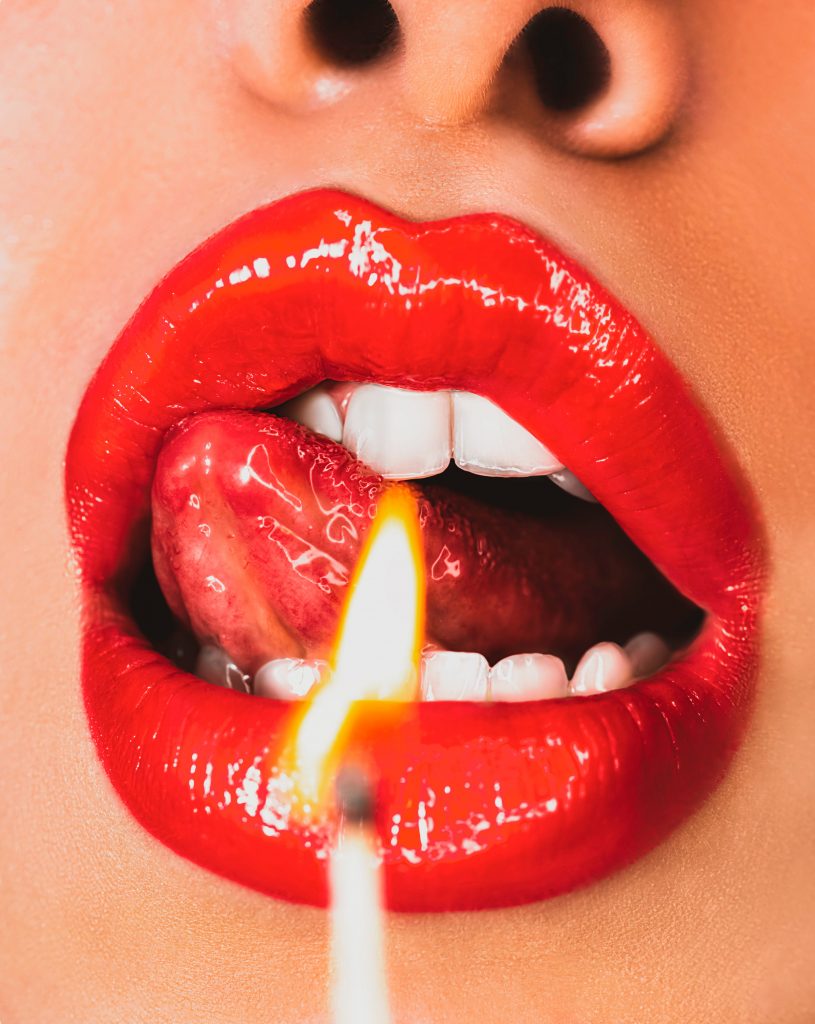 I don't wear much makeup. Once in a while, I'll get dressed up and do a full face, but I don't like the way eye make up starts to feel heavy or the way the foundation feels caked on. So, mostly I don't wear any.
Except.
I pretty much always wear red lipstick.
And I like it red, red.
Fire truck red.
The color of my boy's ass when I get done paddling it red. (Ha ha. That's really more like bashful pink.)
When I first got into the Scene, I bought a lot of very cute outfits, including boots and bustiers and latex so tight I had to oil myself up to get into it. I like the performative aspect of kink, and I liked dressing up and getting compliments. I have a sizable collection of kink clothes for someone who doesn't do this for a living.
I admit I feel like a badass when I'm walking around in five inch heeled mesh boots. But the reality is that a lot of the clothes we think of as "dominatrix" clothes are uncomfortable– confining and hot and difficult to move in. So, I might feel like a badass in my giant boots, but I actually look like Celeste Barber doing an impression of Bambi about to fall in the forest and be devoured by a pack of wildebeests. (Do wildebeests live in the forest. I don't think so. But Bambi's fictional anyway.)
Now that we're apparently living in end times, what with the literal plague, Trump in the White House and fire tornadoes–yes—fire tornadoes–and no one responsible is even having any parties (the non responsible people keep sending me emails for swinger boat parties), my outfits are tucked away, organized neatly in my kink closet. (Just kidding. They're all smooshed into some drawers getting wrinkly.)
But–I can still have my red lipstick!
Before I apply my lipstick, I feel like an ordinary woman. This morning, a tired woman, because I stayed up too late listening to podcasts and woke up too early. I feel bland. I feel my age. I feel like it might be time to change the outfit that I've been wearing several days in a row. (Pajamas. I've basically been wearing pajamas for three days. But we can call them loungewear if you like. I have changed my underwear. And showered. But then back in the pajamas. I mean, loungewear.)
So, right now I'm just a sleepy woman who should change her clothes. But I don't need to do that!
No!
I can just put on my red lipstick. Because when I do that, it's basically like I HAVE changed my clothes. Yes. My pajama shorts are a little short (excuse me…loungewear shorts) and they may show the bottom of my ass. But it doesn't matter because even if I go out to somewhere exciting like…say….the grocery store…and people can see the bottom of my ass peeping out of my well-loved shorts, they won't even know it's me because I'll be wearing a mask!
And what will I be wearing UNDER that mask?
You got it. Red, mother fucking lipstick, bitches. That's how the red lipstick makes me feel. Like I can say things like "red mother fucking lipstick, bitches," and do that drag queen hair flip.
Like my own personal Lizzo video every time it slides over my lips.
Like I'm Bettie Page….
And Elvira…
And Morticia…
…all wrapped up in one Sweet Tart package. And right now I'm thinking….