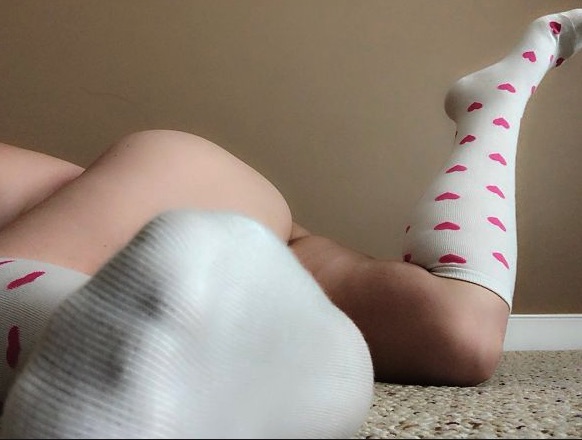 The obvious answer is anything she damned well pleases.
Sorry for bad jokes.
The more honest answer is that it totally depends. On the person. On the time. On the place.
When I go out to kink events (in the before times…when we were still having kink events), I like to get really dressed up. One of my favorite clothing brands for domme-wear is Coquette Darque. They have a lot of pleather clothing that are stretchy but also very sexy. And that's important, because no matter how sexy you want to feel, if you can't actually move in what you're wearing, that's not much fun.
I also love high heels and boots. I have quite a collection. So, if I'm going out on the town…errr….out at the dungeon, I'm probably wearing some very sexy heels or boots.
I do have some more restrictive clothing, boned corsets that make my waist and my boobs look fabulous, but, realistically, I only wear them to LOOK like a "domme" (quote/unquote) and feel powerful and sexy. In reality, I can't DO very much in them, which is not actually very powerful or sexy!
Sit. Bend over. God help me if I fell. I'd be like a turtle on the floor, shell side down.
And then I have a few latex pieces. Lots of people adore latex. They like the way it feels, especially when it's oiled. They like the shine. They like GETTING shined. It's skin tight and accentuates all of the right places.
BUT…I am not actually a fan of latex because….
It's hot! It's so hot! And you sweat in it. And eventually you become a hot mess of sweat inside your latex, which is exactly what some people like about it. But it is not for me. I'll wear latex only occasionally. I have some very long, black latex gloves that makes me feel like an evil queen.
So, what do I like to play in? Really, I like to play in a tank top and cute undies or a light piece of lingerie that's easy to move in and has access to all my naughty bits. I say I like to order from the "Amazon whore store," because they have so many cute, cheap pieces of lingerie to indulge me.
If it's just bedroom play, which is what it usually is for me, I'll start out in whatever I happen to be wearing. I actually have kind of a thing for CFNM (clothed female naked man).
(Reminder to me and everyone–write more about my clothed female naked man kink because it's hot. Ungh. Talk about vulnerability.)
So, my regular clothing fits in well, especially if I'm not actually wearing panties under my skirt, for a sneaky surprise.
And then eventually I'll strip down into my undies or maybe change into a lacey black piece of lingerie.
Sometimes I like buying cheap slutty dresses on clearance that I would never wear out of the house just to wear for kinky play. That way, I don't care if they get messed up, and they are tight—so tight—much tighter than I would wear in public.
But kink is the place where I get to play. And I can look as slutty as I want!
As for what other dommes wear, well, it really is up to them! I see them in everything from total black leather dominatrix wear to cute and flouncy dresses with puppy prints on them.
In fact, there's something especially hot to me about looking really cute and princess-y and also being totally in control.