Tonight I'm going to be on Dating Kinky's What Wonderful Women (and Other Humans Want) podcast.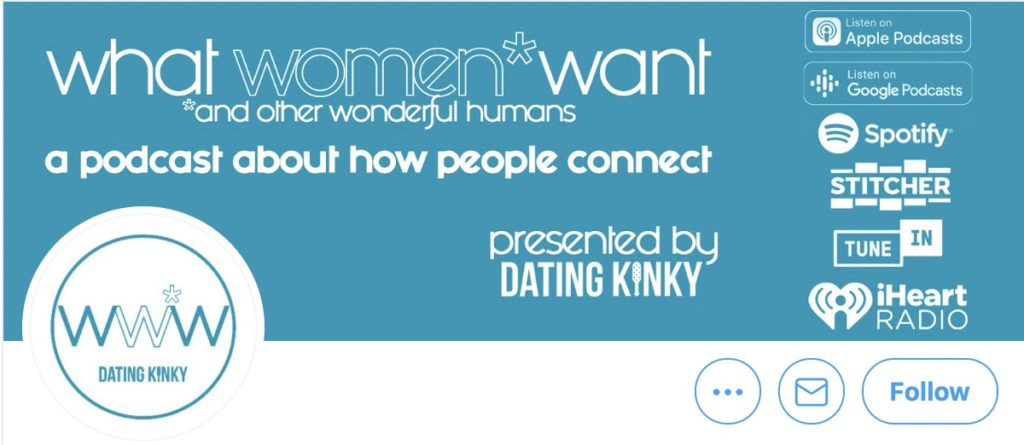 I do NOT like being unprepared. Perhaps some may call me a control freak. Who knows? I wonder why that could be. Although I speak to many people on a daily basis, and I've spoken to many groups before in my former life, I'm very nervous about someone asking me live questions because I'm not sure what they will be and how I will answer.
(I may have even made a Powerpoint presentation as well as an infographic to help calm my nerves.)
So, in preparation, I listened to a lot of the back episodes of the podcast. They were great, and I'm glad that I had the inspiration. Honestly, I am so busy these days that I miss out on a lot of cool things that I WANT to explore. Hitherecatsuit has interviewed a lot of very interesting people!
Yesterday, I listed to the episode with Jessie Sage, a writer, sex worker and even fellow Niteflirt.
OMG. I loved her so much. She made me laugh. I could relate to so many of her stories, including her background in academia and how she transitioned to sex work. (I am surprised at the number of women I meet doing sex work who have that similar background.)
I was jealous of how she got a gig writing a sex column. Me! Me! Me! If anyone is looking!!! And I was super impressed at how she started her own online website focused on the sex industry.
So, I really just wanted to take this post to plug her and suggest you check out Peepshow Media. I have a feeling that if I can steal time, I'm going to be looking at it often.
Hopefully, see you tonight. Or rather…you'll hear me tonight! Along with my over prepared informational material about finding femdoms in the wild!