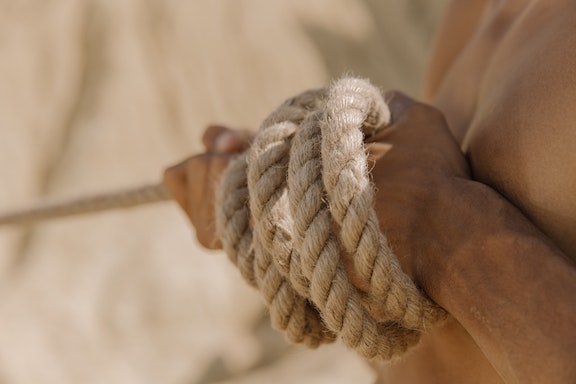 Hello, my Darling Deviants!
I'm back! And now I have to think about things to write about. Because I know you can't wait to hear what's rolling around inside this marble of mine.
What I actually thought I would talk about today is restraints. Not as in the restraint I require from you not touching yourself, but as in the restraints that tie you up.
To be totally honest, tying men up isn't really my kink. I know.  I feel like that might have made some people sad. My feeling is always that you're with me because you want to be, and I don't need to pretend that you want to get away. It's hotter to me that you DON'T want to get away, and you're choosing to be my little toy.
But I also like reactions, so if my partner likes getting bound, then I'll totally do it. I also have my fabulous set of pink cuffs that made me feel both cute and seductive and evil all at the same time.
I also have some of those under the bed cheapo Velcro restraints that are always weirdly not the same length, so one foot has much more give than the other, no matter how many times I try to fix it.
And I have rope.
Ah, rope.
When you get into the kink Scene, you discover how much so many—so very very very very many people love rope.
Usually women and the men who want to fuck them.
So so so so so so many male rope tops.
Who like to take up SO MUCH SPACE in the dungeon! (Do I sound bitter? Not at all!)
It's like the kinky version of man spreading.
Do they really all love the art of Shibari that much or do they just want to get in a subby womens' skirts? Who can say?
I did try to give it a go with rope. I took some classes. I have a lot of quite nice rope sitting in a backpack somewhere that I finally gave up on when I realized I have the spatial relation skills of a third grader. So, no one gets tied up in rope with me unless you just want me to lasso you, which actually sounds kind of fun, now that I think of it.
I have also used saran wrap to bind my partner, who is very ecologically minded and was therefore somewhat horrified by it, which made it more fun? (Although I should say I totally believe climate change is real.) I bound him to a chair that way and had my way with him.
And bondage tape. Red. Black. Pink. I like the pink the best. You can reuse it, if you're careful.
And, of course, scarves! You can't go wrong with scarves, if you have nothing else handy. Just be careful to check and make sure that you aren't cutting off someone's circulation! A trip to the emergency room is NOT a fun way to end a scene.
I do understand what's so sexy about being restrained. It makes you feel more powerless, more submissive, more controlled. It adds to the feeling of helplessness and more easily puts you into subspace—into that place where you feel that you have no choice and you just need to accept or enjoy or endure what your domme is dishing out.
It's also tactile. It gives you something to push on and pull against. It can envelop you, even help you feel safe and protected in your captivity
Now that I think about it, it's all pretty hot! Maybe I need to get the cuffs out more often.