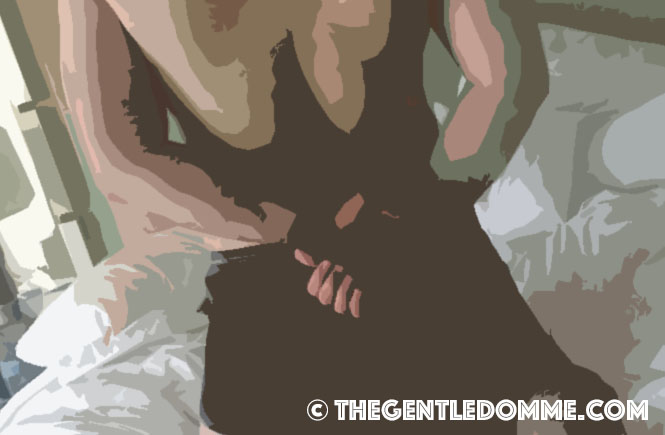 In the second part of this three-article series about setting up your first femdom scene, I talked about magic blindfolds, the importance of aftercare and discovering your domme archetype. Let's press on to the third and final article. I hope after you finish, you'll feel ready to kick ass…and maybe have yours kissed too.
Another issue new femdommes or female tops might want to think about is clothing. While male tops can usually get away with looking very "domly" in a simple and comfortable black shirt and jeans, female tops sometimes feel like they need to look the "part," in clothing that's tight and seductive, like latex or PVC or sky high boots and chokers. It's totally fine if you want to dress like a stereotypical dominatrix. If it makes you feel hot and authoritative, go for it! In fact, some women see this kind of clothing as armor that puts them in domme mode where they can leave their everyday personas behind and just be the bad bitch they always wanted to be.
You aren't required to dress like a femdomme porn star. You aren't required to dress in any particular way. It doesn't make you more or less of a top or a domme if you play in sweatpants rather than leather pants.
However, do remember that often this kind of clothing is painfully uncomfortable or ungainly. Yes. Five inch spiked heels are sexy. But it's a rare woman who hasn't spent some time around the stripper pole who can navigate them easily without spraining an ankle. Just remember that while you probably want to look and feel hot, you also don't want to fall on or injure your bottom or realize that you can't actually bend over to tie or untie him in a too tight corset. And you aren't required to dress like a femdomme porn star. You aren't required to dress in any particular way. It doesn't make you more or less of a top or a domme if you play in sweatpants rather than leather pants.
Personally, when I started out in the Scene, I went all out on the hot domme clothing. And the submissive guys loved it. (So did the dominant guys!) I got lots of attention. But I soon realized that actually playing (code for doing kinky things) in my hot domme clothes literally made me a HOT domme. I was sweating all over the place. And, although intellectually my sexy boots made me feel like a princess warrior, they physically made my feet hurt and made me prone to tripping at inopportune times.
I do still break out my sexy domme clothes now and again, but they are mostly for show these days, when I attend an S&M party—otherwise known as "Stand and Model" party or worn as a treat for my partner before we get down to play, when I'll usually kick off the boots and unlace the corset and play in a tank top and booty shorts.
Now, that we're wrapping up, and I've dispensed my knowledge about making your first scene exciting and hot and completely not weird and with no one crying in the bathroom, I'll end by giving you a few ideas for beginner scenes. These are things that I think are easy to do with most male bottoms. Some of them are sexual. So, it's up to you if you want to go in that direction or not. In fact, I think the easiest way to dominate men is with sexy play, and I lean toward a lot of sexual play, myself. But not everyone mixes kink and sex—important to note.
Impact scenes. The simplest form of this is bare handed, bare bottom spanking. You don't need much to make this happen, just your hand and a cute tushy that wants some slapping. The great thing about spanking for new tops is that you can feel exactly how hard you're hitting and where. If you want to graduate to a slightly more complex form of impact play, use toys. I like a good crop. Some people like paddles. Others like flogging. Bottoms tend to have preferences between stingy and thuddy. Start slow and warm up. Check in with your bottom to see what level they're at in term of pain or enjoyment. There are places that it's okay to hit and places you shouldn't!
Tease and denial. I'm going to admit that this is my favorite kind of scene. I live for edging, bringing men to the brink of ecstasy and then pulling back until they are literally begging me to come. And then I can decide if I'm going to let them or not. I like this kind of scene because I enjoy having sexual power over men and it's fundamentally not dangerous, except for the risk of blue balls. You can sometimes go too far and send a man over the edge before you mean to, especially if he's not being honest about his arousal level. If you feel really confident and your bottom is up for it, you can try for a ruined orgasm. This means he will ejaculate but not feel the pleasure of orgasm. For some men, this will keep them erect and even hornier, and you can do it again and again and…well….let's not be toooo greedy.
Objectification play. Make him stand naked at attention for you. Tell him to turn around and bend over because you want to inspect every inch of him. Have him crawl on the floor at your feet for your amusement and reward him by giving him the honor of rubbing your feet or sucking on your toes (assuming he's into feet). You can mix this in with service. Have him cook you dinner naked, while you relax with a glass of wine on the couch. Meander over by the stove to give him a few swats with a spatula and tell him if he's going a good job or if he needs to improve his technique. If you feel like it and he's into it, you can even bend him over the kitchen counter and have your way with him.
So, that's that! This is my advice for new dommes and female tops just starting out with their first scenes or two. I know it can seem intimidating, even when you're excited and want to try some kinky femdom play. But if you're playing with a kind and enthusiastic partner—and if you're not—why aren't you—it won't be long before you can write an article like this and show me up with your fabulous femdommey ideas.
Like my blog? Follow me on Twitter.