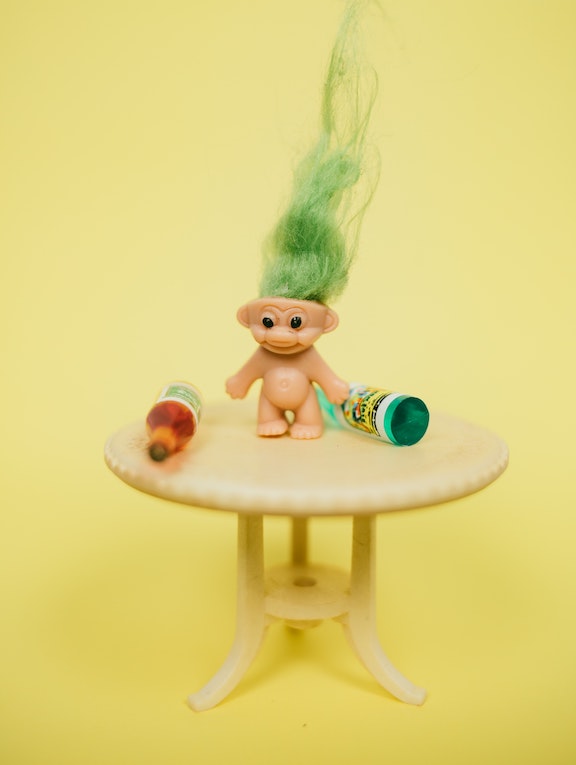 I regularly read some femdom forums. I have for a long time. I didn't post under thegentledomme name before I had this blog, but now I mostly do because my life consists of creating content and talking about sex and sometimes watching The Crown. It's so good! Isn't it?
I happened to see this post on one my favorite femdom forums, which is on Reddit. I like the forum because it doesn't really focus on sex or the "porn-y" aspects of kink, but more of the relationship stuff and questions women (and sometimes men) have about sticky situations. People on the forum were really helpful to me when I had questions, and I try to give back when something seems relevant.
I feel like lately I have come across several negative references to the term "gentle femdom." Someone labeled it as merely a porn category, which I found interesting because I find it so hard to actually find good gentle femdom porn! But like anything, people are going to use labels, and I don't really care if people want to label how I identify as a porn category. I don't need that validation. But someone CAN feel free to make ME a fetish on Fetlife. #bucketlist #goals.
The post really centers around the GFD subreddit on Reddit, which I admit I have not visited much lately. What I've mostly liked there were the cute hentai or hentai inspired adorable sexy cartoons featuring sort of androgynous boys in panties. I just like what I like. I believe I ALSO sometimes visit the "straight twinks" subreddit. They are closely related.
Apparently, some people feel like the subreddit is kind of gross in terms of the attitudes some of the guys have, and I don't know if I want to weigh in on that or not. I do know someone was very upset with me for posting an audio recording that was labeled as GFD but also had some cuckolding in it—that I did not write the script for OR label that way. That did not seem to matter to the person. They were extremely "triggered." I really hate putting that in quotes. It makes me feel like I'm simultaneously a Republican and Millennial hater, and I am neither.
But seriously. If you're that upset because your FREE porn audio contained cuckolding and that bothered you enough to write to me and yell at me about it…dude…you need to either get a life or be choosier about your porn. You could even say….pay for it!
Ah….it's this kind of snarkiness that gets me in trouble. I'm going to get yelled at by a lot of guys into Mommy Dommes. Luckily, I am a mom, so I'll just tell them to go to their rooms until they can control themselves.
So, here is what I thought about the post and how I define gentle femdom.
Partially, when I started this blog, I was looking for a way to rank highly in the search engines. So, I specifically targeted the niche of "gentle femdom" both because it WAS a niche AND it's how I identify.
But I don't think that "gentle femdom" is necessarily that much different than any other kind of femdom, except that I think it tends to be more sensual and involve less humiliation/pain. That's not to say that I don't sometimes like inflicting some humiliation and/or pain. I do. So, am I STRICTLTY a gentle femdom? I dunno. Am I strictly an anything? No.
I do think that GFD porn can heavily overlap with Mommy Domme and age play kink, and while I don't think that's a bad thing, I'm sure it can get annoying if you aren't into that really nurturing element of kink. While I don't consider myself a Mommy Domme, I really do get off of on what you might call manipulative nurturing (This hurts me more than it hurts you. 😉 ) I do not really do age play, although there is definitely an undercurrent of corruption of innocence that runs throughout my play.
The reason I started to identify as a gentle domme is that the other dommes I knew in real life seemed to enjoy harder play than I did. I varied back and forth between the labels I used for myself on Fetlife, which doesn't really mean much, but I thought it did. Domme. Mistress. Switch. Top. Kinkster.
The ones I really switched back and forth between were Domme and Top because the amount of control that I really wanted in a relationship was questionable. It was largely within the bedroom. And I also enjoy what you might call service topping, or what I would call "topping for reactions." Because I enjoy getting reactions so much, things that might not be personal kinks of my own can get hot if they are obviously exciting my partner.
I eventually did settle on Domme as a label, but I always say that I play in the shallow end of the pool. To me, that means that I tend to identify with gentle femdom. But how I interpret that label is not how someone else might interpret it, and that's fine. It's just a label.
The other thing I wanted to point out about that post is just that it largely focuses on online play. And while online play can be fun, I guess, I don't think it's the same as being in an in-person relationship with someone.
I'm not talking about an LDR in which people play online between seeing each other in person. I'm talking about exclusively online play where two people will never actually meet.
I think that people can feel free to enjoy this. I know I enjoy some of the online play that I do! But I think that confusing it for an in-person relationship where people can't easily be the dicks they can be online without actual in person repercussions for their actions is a false equivalency.
Essentially, if guys on GFD social media are jerky, they are only as jerky as ALL social media allows people to be and I don't think representative of how people into femdom of any kind are in reality.