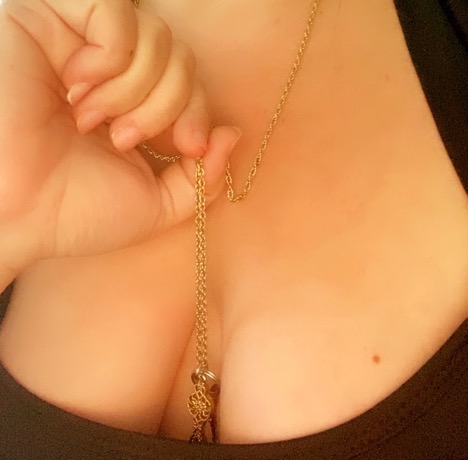 After their first full night together, Adam found himself sleeping in Joyce's bed.
Each night was more of the same. Adam would return from classes. They would have dinner. Joyce cooked one night. Then Adam cooked the next. One night they ordered pizza and watched an old movie on the sofa.
Joyce would draw a bath, take off Adam's cage and clean him thoroughly. Then she would use him for her orgasm and give him the choice. Did he want more of this tomorrow? Or did he want to come?
Every night he found himself wrestling with the question. Did he want to come?
Of course he wanted to come! It had been weeks since he'd had an orgasm. He found himself dripping almost constantly. Every movement of Joyce's body on him, even around him, even her very scent, made his cock strain.
Being inside of her was a curiously pleasurable torture. He never thought he would make it, but her quiet yet stern voice always talked him through it, until he found himself watching in delight as she came, using his body, his cock, leaving him frustrated, denied, so incredibly needy.
He wanted to come but he also wanted it to never end. He was afraid of what would happen if he made the wrong choice.
Would she be displeased?
Would she feel that he'd failed her?
Would he be banished down to the basement, and kicked out of Joyce's bed forever?
He didn't want to find out.
And, also, if he was being honest with himself, he didn't want the intense feeling of desire to go away. It had quickly become a part of him. Every time he saw his key dangling on the chain between Joyce's beautiful breasts, he was reminded that he belonged to her.
He was hers, and knowing that brought on the powerful feeling of submission he'd craved since….since practically forever.
And not only was he owned by someone. He was owned by Joyce—this…he was embarrassed to think of her this way…but…this goddess. Sometimes he wanted nothing more than to fall down to her feet and kiss them and show her how much he desired her, how he wasn't worthy of her but grateful that she'd wanted him, for some reason.
Sometimes he was so overcome by lust and adoration that he did, and she'd laugh and pet his hair, and he knew he was falling in love with her.
So, that evening when she took him upstairs after dinner, bathed him, cleaned him and used him for what he was proud to say seemed like a very powerful orgasm, he was surprised when she didn't ask the question. "Do you want to come now or do you want to do this again tomorrow?"
He was expecting it. He was expecting his answer. "Do this tomorrow. Don't let me come, ma'am."
But she didn't ask.
Her cheeks were still flushed from her orgasm. She'd used him especially well tonight, and he was achy and leaking. There was a part of him that wanted to curl up beside her and cry just because his body was overwhelmed with sensations, and he knew she would be gentle with him.
There was also a small part of him that wanted to throw her down on the bed and fuck her the way he'd fucked girls before he'd discovered this part of himself.
But he knew Joyce would never allow it, and he knew he didn't really want it anyway—not now, after he'd discovered that sex could be so much more if you stretched the desire out like this.
"Did I do something wrong, Ma'am?"
He gulped. It was the way she was staring at him. So neutrally. He couldn't read her.
"I didn't come, Ma'am. I followed directions."
"I know you did, Adam," she said, smoothing back his hair. He couldn't help but lean into her touch. Every dollop of affection made him crave her more.
"You were a very good boy. You let me use you so well. You've been very good…for…what…has it been over a week now?"
"Nine days, Ma'am," he said, and then was embarrassed that he'd spoken, counted, so quickly. He could probably count it down to the minute if she asked.
"And you hadn't come before that either? Had you?"
"No, Ma'am. Not for a while. Not for a few weeks." The more he talked about it, the more desperate he felt. It had been FOREVER since he'd had an orgasm. He'd been starting to think maybe he just wouldn't have one ever again. But if his life could be like this, maybe it wouldn't matter.
"Every night I ask you if you want to come, and you say no."
"You ask if I want to come or if I want this tomorrow." He bit his lip. Had he corrected her? He hadn't meant to. He just wanted her to know why.
She laughed. She was half covered with the bedsheet, one gorgeous breast in his view. "Yes, you're right. I give you the choice. And you always choose to stay denied."
"If it means I get to have you. I'll stay denied for as long as you want if I get to have this."
He couldn't help it. He leaned down and put his head in her lap. He was overcome—with desire, frustration, love, wanting, embarrassment.
"Awww! Sweet boy," she said, stroking his cheek. "I do love you this way, but you have to come some time. I want you to come some times. Just the way I want, and when I want."
She put her hand under his chin and lifted his head up, so he was looking in her eyes.
"And I want you to come tonight, Adam. The way I want."
Immediately, he was harder than he'd ever thought he could be. It was a good thing he didn't have to fit back into his cage immediately, because it would have taken a lot of ice to shrink him down enough to manage it.
"I can tell you like this idea," Joyce said, staring down at her leg. He realized he was leaking on her.
"Oh, Ma'am! I'm so sorry!" He stood up quickly.
"It's okay," she said. "See. This just proves my point. We need to let out a little of the pressure."
"We do?" He wasn't sure exactly what she meant.
"Yes, baby," she said, and she stroked his cock lightly, encouraging more clear liquid to ooze from the head.
He moaned. He couldn't help it.
"If we don't express at least a little of that come, you're never going to be able to keep lasting for me. I can tell how hard it's been for you the past few nights. And don't get me wrong. I like knowing it's hard for you. But I don't want you to accidentally spill over when you're not supposed to. We can't have that happen. Can we?"
"No, Ma'am," said Adam. He had a feeling he knew what she was getting at, and he wasn't sure if he was even more excited or more desperate.
"So, here's what we're going to do," she said, slipping off the bed and patting the mattress.
"I want you to lie down here like a good boy," and I'm going to let out a little pressure." With that, she squeezed his balls gently, and he winced at the light touch. They were so incredibly sensitive.
"What are you going to do?" It wasn't that he didn't trust her. But he was so on edge, he wasn't sure what his body could handle.
"Not that much that we haven't done before," she said sweetly, as she sat down beside him on the bed and reached for the bottle of lubricant on the side table. She poured a not insignificant amount into her palm.
Then with a slippery hand, she began to deftly manipulate his cock.
It didn't take much for him to let out a moan so undignified, he laughed in embarrassment. She knew how to stroke him exactly the right way—with enough force to bring him right to the edge, but delicately enough to keep him there on the precipice.
He began to squirm, and she put her other hand on his forehead to steady him.
"I know it feels good, baby," she said softly. "Your body needs this."
"It does," he admitted, feeling a steady stream of pre-cum flowing out of him.
"But it's just your body that needs this," she continued, still stroking carefully. "Don't you like feeling desperate for me?"
"I do, ma'am," he said. "I really do."
"I know," she said, and he knew she did know. He trusted her totally.
"So, we need to give your body what it needs, but only your body. Do you know how we do that?"
"No, ma'am," he said, although he had a feeling he did know.
With that, he felt Joyce's hand on his ass, her lubricated finger investigating slightly between his cheeks.
He gasped and tightened, but she ruffled the hair on his head. "Relax," she said. "This is going to feel good. It's going to help."
But he was embarrassed. He couldn't help it. No one had ever touched him there before.
But he also had to admit that it felt terrific. Joyce's fingers teased, gradually opening him up, as he felt himself become calmer.
Then her fingers were at the entrance to his ass, one playing around his asshole, tickling him there just a little until he heard himself moan and felt his hips buck unexpectedly. He hadn't expected this to be so delicious.
And then while he bucked, Joyce gradually eased her finger inside of him, and held it there steady and still while she kept her other hand on his cock, also still, letting him take in the two sensations at once.
"Are you all right?" A sly smile grinned down at him. It was clear she knew he was more than all right.
"Yes, ma'am," he managed to get out. "It's just…"
"Different," she said. "A lot."
"Yes. Both of those. Also…" he turned his head away from her because he felt shy. "Really fucking amazing."
She laughed. "I'd hoped so," she said. And then she started moving her finger slowly inside of him, crooking it ever so slightly toward his stomach, while also very slowly and lightly stroking his cock.
Whatever she was doing felt intense, and he twisted a little this way and that. It felt like if she just moved her finger a little more or he tilted a bit more to the left or the right, it was going to go from amazing to mind blowing.
But she was in control, and she seemed to keep right off that spot, that brink.
"Oh, ma'am." He could feel an orgasm welling up inside him. It was even more powerful a feeling that he'd had earlier when she was fucking him, if that was possible.
He needed to her to know that she had to stop or he was going to come, and he wasn't supposed to do that unless she let him.
He couldn't stop his ass from contracting around her finger, but she continued that soft steady stroking that was almost hypnotic.
"Ma'am!" His voice was frantic. Was it his imagination or was she pressing a little harder inside of him?
He was going to come. There was no way to stop it.
"It's okay," she whispered, looking down him with that gentle smile. "Your body needs to this. Let it go for me," she said.
He didn't need any more encouragement.
"Yes, Ma'am," he said, and he could feel his orgasm starting to overtake him, that powerful rush that made him want to rut and buck and thrust.
But just as soon as it began, he realized there was emptiness.
Joyce's hand was gone from his cock, just out of reach.
Her finger was still in his ass. He was spasming against it, but there was no friction against his cock—nothing to thrust into, to rut against, to buck into except empty air.
He groaned as the orgasm that had seemed so powerful dwindled to nothing and watched helplessly as instead of the violent spurt of come that he'd expected, come simply dribbled from the head of his cock onto his stomach.
"Good boy," Joyce whispered to him over and over.
She took her finger out of him and pulled him to her chest as he collapsed into sobs.
He wasn't sure why. It's not that he was upset. No. In fact, he liked the feeling he was left with. Joyce had been right, of course. His body had needed the release but this way he was still hers to play with and use and adore.
It was just that he was overwhelmed. His body was confused. It was release but not release.
Just what she had wanted.
"How do you feel," she asked him.
"Confused! Like a little of the pressure is gone. But still horny! I still want you so much!"
Joyce laughed. "That's how you're supposed to feel." She hugged him to her chest, and his cock twitched as her breasts pressed up against him.
"Now I just have one more question for you, tonight," she said, seriously.
"Do you want more of this tomorrow, or do you want to REALLY come now?" He caught the sly grin that played on the edge of her lips, and he groaned.
He could already imagine the feel of the cold metal sliding over the head of his over-sensitized cock.