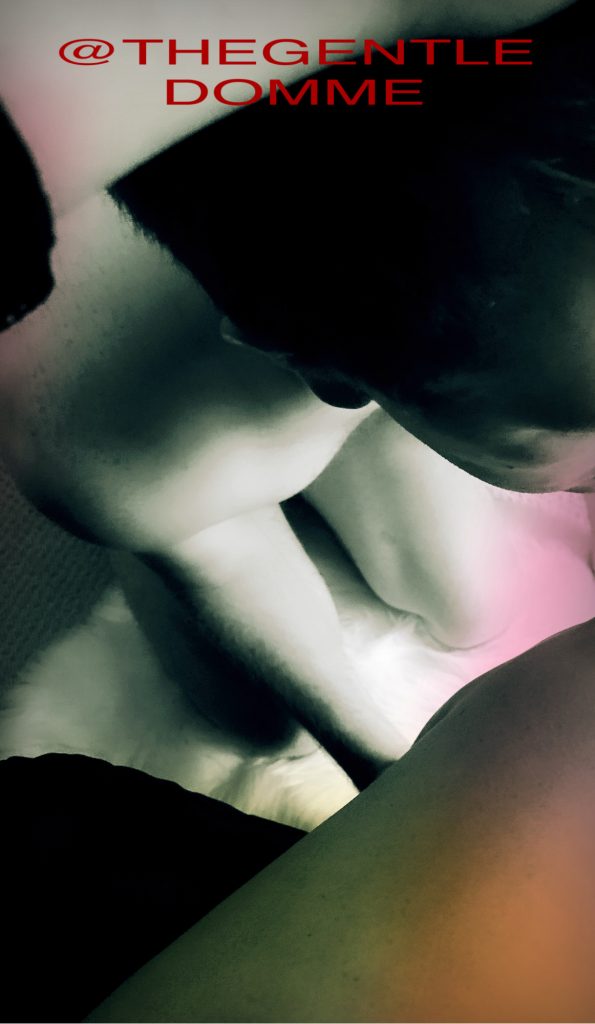 The next day, Adam collected his things from the dorm studio where he'd been living during his first year of graduate school. He hadn't planned to move quite so quickly, but he wasn't taking Joyce's invitation lightly, and between yesterday's excitement and the aching, delicious pressure of his cage, frankly, he couldn't get there fast enough.
He didn't have many belongings, just a bed, two side tables, a few lamps and his clothes, books and personal items. So, it turned out to be a good thing Joyce had the couch, now infamous forever in his mind. It was easy enough to rent a small U-haul, get a friend to help him load it, and he was at the apartment by mid-day.
He definitely did not forget his key.
Joyce's key-he reminded himself, a wave of desire passing through him, as he stood outside her house.
He had a keyholder now.
It was entirely up to her how long he stayed caged, or not, how often he would have orgasms…if he would have orgasms at all.
He shuddered with uncertainty and want at the thought.
Standing there, he realized he didn't actually have a key to his new place. Or a lease. Or anything that said he had a right to live there. And he wondered if maybe it had all been a dream or a cruel joke, and now he had nowhere to live.
What was more believable? That he'd accidentally stumbled upon not only a great apartment but an unbelievably hot woman who wanted to fulfill his deepest fantasies or that he'd been hit by a car crossing the street and was currently in the hospital with a concussion?
He considered this possibility for a moment, but then noticed a pink ribbon dangling from the top of the staircase to the basement apartment. He approached it, and saw that attached to the ribbon was a key, and an envelope with a note. Inside it said:
Adam,
I had to run out. I'll be very busy today, but you can be sure you'll hear from me this evening. Your lease is in the apartment. Looking forward to our arrangement.
-Joyce
Adam's heart leaped a little at the note, as did his cock, which he had managed to keep under control for most of the morning. And he rushed down the stairs with the key and Joyce's note and let himself in to his new place.
There was the couch, just as he'd left it yesterday. And Joyce's red panties were still on the floor. It hadn't been a dream. Or if was, he was still dreaming, and he didn't want to wake up. He looked around guiltily, and then knowing he was alone and without being able to help himself, he picked them up and sniffed them.
Mmmmm. His cock strained, and he stuck his hand down his pants and touched it over the metal cage. He could feel a little wetness seeping out of the hole, and he knew he was leaking remembering what Joyce's pussy had tasted like all over his face, the way she had taken control of him and used him and how much he wanted her.
But his cock was hers now, he reminded himself. It wasn't even up to him anymore. And just the thought made him excited and calm in equal measures.
He had to be calm. For her.
Because she hadn't said he could take the cage off. She hadn't said he could come. She hadn't even said he could touch himself, he realized, and he pulled his hand out of his pants quickly.
He would be good! He would follow directions!
There were some papers on the kitchen counter. The lease, of course. And a pen, for signing. Adam grabbed them. He didn't have much experience with apartment contracts, but it all seemed standard and ordinary. Typed. Legalese. So, he initialed and signed, and then he flipped to the last page.
This one was different. Unlike the other pages, it wasn't typed. It was handwritten.
Adam leaned in, and he swore he could even smell a hint of Joyce on it, some kind of perfume she'd had on yesterday he'd noticed as she leaned over him in this very kitchen, her breasts practically in his face.
Dear Adam,
I think you will find the rest of this lease to be in order. It's the one I have used for years for other tenants.
However, this last page codifies a different sort of lease between you and me.
In short, it is the lease for your cock.
By signing, you agree to give me control over it and over your cage. Unlike the lease to the apartment, which is a standard 12-month lease and cannot be broken without 60 days-notice and two-months rent, this lease can be terminated at either time by either party.
Therefore, by signing this lease, you are agreeing to give me complete control over your cock, your cage, and your orgasms for as long as you see fit.
And I agree to take control over your cock, your cage, your orgasms, for as long as they and as long as you, please me.
Consider carefully before signing. Remember exactly what you are giving up and think intently upon what you will be receiving.
–Joyce
Adam was beside himself.
He stood at the counter, against the very drawer that had attacked him the day before and realized he was rubbing himself up against it without thinking. He wanted nothing more than to unlock himself and stroke himself furiously to an orgasm. It would take twenty, thirty seconds at most. Joyce wouldn't even have to know.
But he would know.
He looked at her words again. "Remember exactly what you are giving up and think intently upon what you will be receiving."
He breathed deeply. He composed himself. He signed.
And he left the key to his cage on top of the agreement.
++++++++
He spent the rest of the afternoon unloading his things into the apartment and trying to keep Joyce off his mind, although she kept wandering in and out of his thoughts. Then he returned the U-haul, ate some quick fast food for dinner in his car, and headed back to the apartment. It had been a long day.
It was dark by this time, and he noticed that a light was on in the upstairs part of the house. Joyce must be home.
He wanted to bound up the stairs to see her, but he realized he didn't know what to say to her. What were the rules? He wasn't sure. But she had said he would hear from her later, so he decided to take her at her word, and he went back into his new place, still feeling a little unmoored.
Everything was as he'd left it before he'd returned the moving van, except the lease papers were gone from the kitchen counter.
And so was the key to his chastity cage.
Instead, there was just a sticky note in their place. It said:
Take off all your clothes.
Stand in the middle of the room.
Wait.
Adam shivered, trying to tell himself it was because it was a little cold in the apartment. But he knew the truth.
He followed Joyce's directions. He shucked off his clothes and stood naked in the middle of his new living room, his bare feet cold on the tile floor. The room was still relatively empty. The couch was behind him. He had boxes on the floor, an end table by the front door.
He was still incredibly excited, but the cold at least helped with his erection, keeping it from straining too much. Although, he was still very conscious of the fact that he was encased. Perhaps more conscious than he had ever been before when he had held his own key.
True. It had been in an ice cube, so it couldn't be retrieved immediately. But he could retrieve it if he needed it.
Now, Joyce had it. He didn't know where. And he had agreed to her rules. His cock was hers. The knowledge was exhilarating—and a little terrifying.
How long was he standing there? It felt like hours, but he knew it wasn't. Maybe fifteen minutes. It just felt endless.
And then he heard it.
Joyce's voice.
But from where?
He heard her easy laughter. The sound of clicking heels on a hard wood floor. Some clanking. Like glasses?
He looked all around, but she obviously wasn't in his apartment.
She was upstairs. So how did he hear her?
Then he noticed the small box on the wall. It had been there all day. He'd been aware of it, but wasn't sure what it was. The building was older. Now he realized exactly what it was. His cousin had one in his house, built in the early 60s.
It was an intercom. And the light on it was blinking. It was on.
He could hear Joyce because she was recording herself above him.
He thought of the note she had left earlier, and despite his frustration, he had to laugh. "You'll hear from me this evening." That's what she had said.
He practically groaned out loud, but only stopped himself because he didn't know if she could hear him too.
Because her clicking heels weren't the only footsteps he heard.
He heard heavier footsteps too—footsteps like from someone's flat footed, solid shoes.
A man's shoes.
Joyce was upstairs with a man, having drinks, wearing heels, laughing. And here he was—downstairs—in the basement—naked, wearing his cage…and leaking onto the floor.
He couldn't hear everything. The sound was muffled. They weren't right next to the intercom. They were moving about the house, probably around the kitchen.
There was the scraping of chairs on the floor, more laughter, some of Joyce's and some deeper chuckles, and then more of Joyce's again. Flirty. Sexy laughter.
Adam found himself getting jealous. Why wasn't he the one up there laughing with Joyce? Having dinner or drinks? Who was this guy?
But then mixed in with the jealousy was something else. Curiosity. Desire.
What was she looking like? What was she wearing? What was she laughing at?
What did he look like? Was he handsome? Were they touching?
He listened intently for every little sound. Running water. Was it in the kitchen or the bathroom? Silence. For how long? What did the silence mean? Then more muffled talking. Was that a moan? Or a grunt? Or just a sigh. Or something from outside.
He couldn't tell, and it was making him crazy.
He imagined Joyce upstairs with this man, some good looking older man, someone Joyce's age and then remembered what she had looked like yesterday, sitting astride his lap, kissing him, so in control. And what she had tasted like, the view of the inside of her creamy thighs as she rode his face.
Silence. There was just silence now.
What were they doing?
Was he fucking her?
Somehow, he imagined that this man would take control. He would grab Joyce and push her up against the wall, lift up her skirt and plunge into her pussy with his cock. Joyce wouldn't be the one in control. He would. She wouldn't grab his hair and push his face into her wet pussy. Instead, she would eagerly take his cock into his mouth, on her knees, looking up at him with hooded eyes…Adam's key hanging from a gold chain around her neck, swinging lightly every time his cock hit the back of her beautiful, pale, smooth throat.
"Ungh." He let out a strangled cry, somehow on the verge of orgasming, despite his cage, despite not even touching himself. But he knew he couldn't come. He knew if he did, he would regret it.
And then….a moment later there was a knock at his door. And then the turning of a key in the lock, and there was Joyce, a half empty bottle of champagne in one hand and two glasses in the other. She was wearing a figure hugging black dress and red pumps. She looked, as she had yesterday, amazing. He was pretty sure his mouth had starting watering, like she was Pavlov and he was her dog.
"I think I heard you," she said, like she was surprised. "Was that you I heard just a second ago? It sounded like you were upset!"
She smiled brightly at him, as she stepped into the place, her heels clicking now on his floor.
"I…." Adam didn't know what to say. He was still incredibly turned on and jealous, strangely confused and very naked.
"I heard you," he stuttered out. "I could hear you up there with that man."
"You could?"
She placed the bottle and glasses on Adam's end table and walked over to the intercom.
"Oh! You could! Silly me. I must have accidently flipped on the intercom when I came to collect your lease agreement this afternoon." Her eyes were playful. "This old thing," she said. "Were you spying on me, Adam?"
"No!" Adam tried to stand up straighter, even though he was incredibly conscious of just how naked he was and just how clothed Joyce was. He wanted to hide himself. He slipped one hand on top of his cage, in his outrage, just to give himself a little more protection.
Joyce quickly stepped up next to him, so close he could feel the swish of the fabric of the dress she was wearing against his thigh, so close he could feel her breath on his cheek, as she gently took his hand and removed it from his cock.
"No, Adam," she said, simply. And she didn't have to say more. He understood. He must not cover himself from her.
"Yes, ma'am," he said.
And then, "But I wasn't spying, ma'am. You told me to take off my clothes and stand here naked and wait, and I did. And then I could hear you up there."
"You could?" As she spoke, she hitched up her dress, and then took the hand he had used to cover his cock.
"What could you hear?" Then she spread her legs a little and guided his hand up her thighs, until it reached the warm, wetness of her pussy.
He moaned. "I heard you laughing. I heard your heels."
She spread her legs a little more and urged his hand up, until one, then two fingers were inside of her, and his palm was nestled against her clit. She pressed herself into it.
"And…" she said.
"And…" With every thrust of his fingers inside of her, he couldn't stop himself from slightly bucking his hips into empty air, mimicking what it would be like if it was his cock snugly fit inside her.
"And I heard a man with you. And I heard you talking. And then I couldn't hear you talking, and I wasn't sure what you were doing. And I imagined things…"
"What did you imagine, Adam?" Her breathing was faster now. She pulled down the top of her dress so one heavy voluptuous breast was freed, and she took it and put it in his mouth.
"Suck," she said. Not harshly, but it wasn't a request either. It was an order.
And Adam did. And he felt his mind floating back to that state of blissful calm as he sucked eagerly on her breast, his fingers still inside her as she used them.
Then she took her breast away, and she asked again, "What did you imagine?"
"I imagined him upstairs fucking you," he admitted. "I imagined him pushing you against the wall and lifting up your skirt…your dress, and I imagined that you wouldn't be wearing any panties, like you aren't wearing any now. And then I imagined him taking out his cock and fucking you. Hard."
"Go on," she whispered in his ear, breathy, her voice uneven. "Don't stop. What else did you imagine, Adam? Tell me."
He whined. Gulped. He could feel her wet and hot and tight against his fingers, her pussy contracting around them, and he couldn't stop himself from thinking about how she would feel wrapped around his cock, letting him slide in and out, milking the come out of his swollen balls.
"I imagined that you got down on your knees and you took his cock into your mouth and you sucked him. And you looked up at him while you were doing it so he could see how much you loved it…how much you wanted to take his big, thick, hard cock in your throat. And…and…."
"Yes. Yes. Finish it," she said. He could tell she was on the verge of having an orgasm. He tried to turn his head to look at her, but she blocked him.
"No," she said, nicely but firmly, like she was speaking to an overexcited puppy, which was a bit like how he felt.
"You're doing such a good job for me, Adam. Keep being a good boy and look at the wall and finish it for me, and I'll come all over your fingers, and then you can lick them off. Ok?"
"Ok." He felt meek. But proud. He was doing a good job. He wanted to do a good job for her.
He continued. His voice strained, "…And then he told you to open your mouth wide because he was going to come, and you did. And you sucked out every last drop of his cum. And…and…and….the whole time….my key was hanging around your neck, and you knew…you knew…You knew that I could hear you down here fucking him and sucking his cock and you liked it. You liked it!"
She groaned and bit into his shoulder as she came hard, one hand possessively grabbing his chin, the other in his hair, pulling his head back, as she ground her pussy rhythmically against his hand, riding out the wave of her orgasm.
"Good boy," she whispered, again and again into his ear.
"Such a good, sweet, denied, locked, desperate boy. Aren't you?"
"Yes, ma'am," he said. "I hope so ma'am."
"Look," she said, and she finally let him turn his face toward her pink, heated cheeks.
She pointed at her neck.
Around it, he saw a slim, delicate gold chain, and at the end of it, settled right between her gorgeous breasts, was his key.
She smiled, and then she kissed him on the mouth.
"That was my ex-husband," she said. "We're still friends. He comes over every once in a while, and we have a drink for old times' sake."
Adam was embarrassed, but he needed to ask. "So, you weren't fucking him?"
"No," she said. "Not tonight, anyway." She smirked.
"But you knew I could hear?"
"Of course." She laughed. "The whole time I was thinking about you down here naked and caged and probably dripping pre-cum all over my nice clean floors."
She glanced down at the tile. "It looks like I was right."
"Uhhhnn." He bit his lip. He was still so horny. "Ma'am? Maybe…maybe?"
Maybe she would take pity on him. Maybe she would let him come? He'd even take a ruined orgasm. Anything to relieve the pressure.
"Oh! Of course," she said. She reached and gave his heavy balls a squeeze, and his eyes rolled back in his head.
"These are coming along nicely. You'll have a such a nice big load saved up for me. Eventually. But you're not ready yet. Are you. You can take a little more for me, can't you, Adam."
It wasn't a question. He knew. He also knew how much he was going to ache later, toss and turn, maybe have to ice himself down just to get to sleep.
But she was right. He wasn't ready. He wanted. He needed more.
"Yes, ma'am," he submitted.
She patted his cheek. "That's my boy," she said.
"We're off to such a good start. I almost forgot your reward for being such a good boy. Open wide and suck my fingers nice and clean. Use lots of tongue. For practice."
"And Adam," she said, caressing his key with her left hand as he hungrily nursed on the manicured fingers of her right, "Don't forget to say thank you when you're done."