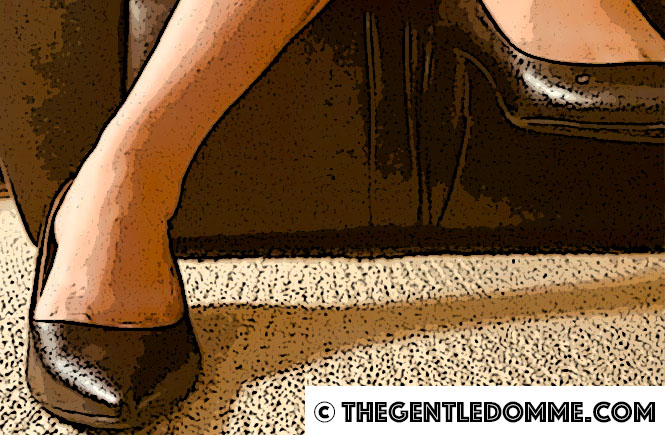 I remember it clearly. Here was this man I was very into. He wasn't my submissive. We were just getting to know each other. But we'd made out, quite passionately I might add. We'd had a little light play at a kink event in public. And we agreed that we were going to meet up at his place and do a scene.
If you're a newbie to kink and you have no idea what that word means, don't worry. A scene is just a time during which you do kinky things with another person, or persons. In a way, it's like a scene in a play, which is where the word probably comes from. However, you don't have to act like another person during a kink scene—although you certainly can and lots of people do. A scene can be as simple as a spanking or as complex as premeditated group consensual non-consent gangbang/predicament play.
So, this man and I agreed we were going to do a scene, and I was going to top him. I was very excited! There was just one problem. I really wasn't sure what I was going to do.
It didn't help that he was an experienced bottom, and I wasn't. And I was too afraid to tell him that I was unsure of myself. I was supposed to be in charge. I was supposed to be confident. So, how could I tell him that I was nervous and worried I was going to be boring or do something wrong?
It's a weird situation to feel like the one who is supposed to have all the power but not know what you're doing.
I learned later that this is often how lots of new dommes and female tops feel when they're playing with more experienced male partners. It's a weird situation to feel like the one who is supposed to have all the power but not know what you're doing. And you're afraid to admit it because you think it might ruin the illusion that you are THE hot goddess femdomme and your bottom will be disappointed.
One lesson to take away from my plight was that I should have told him all of those things. There was no reason for me to be ashamed of not being an expert top who automatically knew how to push all of his buttons. Not only had I had limited experience with BDSM in general, I'd had limited experience with him. And he knew that. I wasn't his first newbie top. It's a little awkward playing with any new person, even when you feel like an experienced domme.
And every person is different.
So, the first thing to remember when you're planning your first scene is not to be like me. Talk to your partner. Ask him what he likes and doesn't like. Make sure you know each other's soft and hard limits. Depending on what you think you'd like to do, talk about your physical and mental health. Are there any things you should be aware of that might be dangerous physically or mentally? Negotiation is a very important part of kink.
Vanilla people often value spontaneity in sex, which is why some people have oopsie pregnancies. Let's not bother with condoms. Let's be carried away by the moment!
But kinky people understand the value of plotting and organization because kink can be dangerous. It's eroticism 2.0. You might think that talking in detail about what you want to do will take the surprise out of it. But, in reality, talking about how you're going to demolish someone can be very stimulating!
Also, you don't generally want to surprise a new partner unless they know you're going to surprise them, because what if your surprise turns out to be that you brought a flogger and your bottom had a terrible experience with flogging and absolutely hates it. Or what if your partner has a nickel allergy, and your vampire gloves make him break out in hives. If he's aware of those things, he should tell you beforehand. But until you know someone well, you want to talk openly about potential scene ideas so no one suffers from an unpleasant or dangerous accident.
But until you know someone well, you want to talk openly about potential scene ideas so no one suffers from an unpleasant or dangerous accident.
Okay, so back to the subby guy I was going to be scening with for the first time! Eventually, we did get to negotiations and discussing some things we were curious to try with one another, mostly because he suggested it. And I had an idea of some things he was interested in and some things that I was interested in, and we did discuss limits and safe words and consent. All of the super important stuff that seems like it's going to be boring, but can actually be kind of hot if you work it in with fantasies and some sexy talk.
But even when I decided on a basic idea of what we might like to do, which in this case was some bondage with handcuffs, some impact play and some tease and denial, as the date got closer and closer, I became more and more nervous about how I was going to do all of these things and how I was going to look smooth doing them. It's one thing to list out actions and items. Bondage, check. Paddling, check. Edging, check. It's entirely another thing to weave it all together in a way that seems natural and sexy.
So, I did what I do best, which is research. I took to Amazon and bought some femdom books and Googled femdom articles, like you might have done to get here, and browsed femdom forums for "first scene" ideas. And I would actually recommend that for you too if you're nervous. I mean, keep reading my article, please! Don't just abandon me! But lots of dommes discuss first scene jitters, and I learned a lot of helpful tips from nosing around and taking some tips from women who had also faced my fears.
There's so much to cover! Stick with me and look for my next article about setting up your first scene in which I'll discuss topics like finding your domme archetype, sketching out a scene and the importance of just having fun. It's not called play for nothing!
Like my blog? Follow me on Twitter.