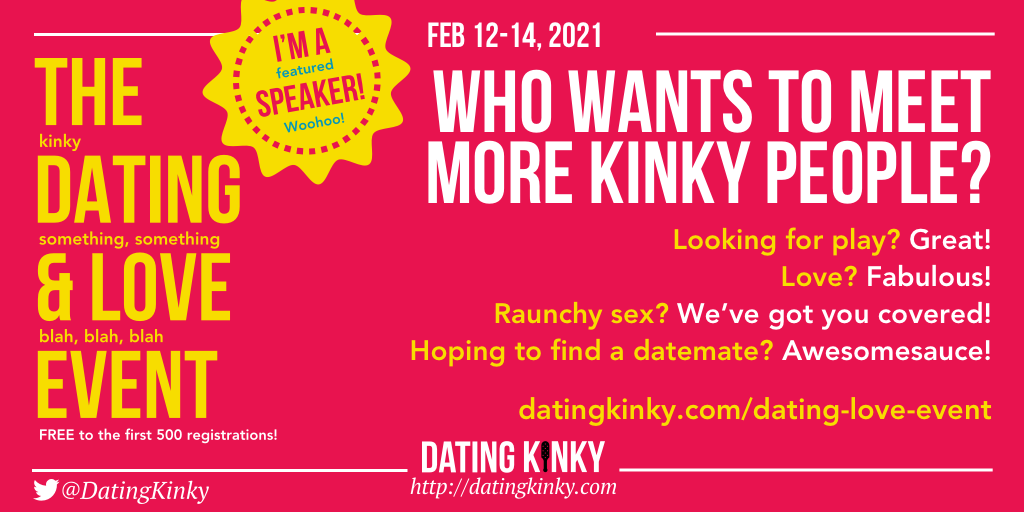 Guess what? I'm going to be on a panel.
Little old me? On a panel. I feel so distinguished. I will definitely wear glasses and sip some mint tea, although you won't be able to see me because I don't show my entire face. Maybe James Lipton will be there and will ask me what my favorite curse word is. ("Fuck." It is definitely "fuck." I say "fuck" a lot.)
But seriously, I AM going to be on a panel for Dating Kinky's Dating and Love Event, which is a three day virtual event on Valentine's Weekend. This panel will be on Saturday February 13th from 7:00-8:30 PM EST and hosted by the lovely HiThereCatsuit and his blog, What Women (and other wonderful humans) Want in the World of Dating?
Here is the official registration link for the weekend event (free to the first 500 sign-ups):
https://datingkinky.com/dating-love-event/
And here is the Fetlife event link:
https://fetlife.com/events/938355
And I think I am going to be on the panel with Miss Pearl, and I am now totally fangirling because I have been reading her blog forever. She is so smart and clever and funny, and I could go on and on. This is my favorite post of hers, and it is part of what inspired me to start writing about femdom.
So, you should definitely attend! And I'm not saying that because I got paid. Nobody pays me anything (except for phone sex and sexy audio recordings) because I don't get enough impressions on this blog yet. 😉 (But if anyone wants to start sending me free sex toys to review, I would totally be cool with that. Just putting it out there like The Secret.)
So, no. I'm telling you to attend because obviously you love me! But also because I think what Dating Kinky is doing is very cool, and this specific event is for people both looking for kinky relationships and people who want to be or are in kinky relationships. There is going to be some kinky speed dating and lots of info about hot sex, poly, intimacy, and incorporating kink in your relationships. ALL weekend!
(And let's face it, people. What else have you got going on? My biggest excursion these days is to the grocery store where I buy 8 Lean Cuisine French bread pizzas at one time and the cashier gives me weird looks. They're really good. They are.)
And me. Did I forget to mention me? You should attend because of me!
So, I hope to see you there! Well, not really SEE you. But see you type little comments on the side of the screen telling me how brilliant and funny and clever I am, and not because I totally blank when someone is asking me questions, and accidentally call them a good boy and to start edging for me, please.