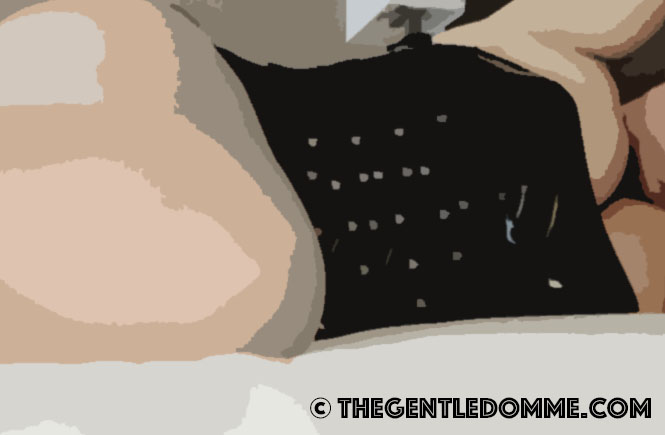 I just had a lovely weekend with my sweet boy. Yes, there was kink and debauchery, but there was also a lot of binge watching of television shows. We're watching Atlanta right now, in which I see elements of Louie and Girls. There was also a lot of soaking up the lovely late summer weather and reading. And talking politics and silliness.
As for the debauchery, right now we are very focused on orgasm control—-his. He basically keeps himself in chastity until we see each other, and then I stretch it out until he's going insane. It's fun, and I admit I feel a little sad when I finally let him come. He's incredibly eager and totally focused on me when he's desperate, which is adorable. And I love attention! But it does get to a point where he's aching or soooo eager that any little thing will send him over the edge. And then I usually take pity. Sometimes I think he might not want me to, though. It's something I have to think about. Would I see him and deny him the whole time? I think it's something he would find both exciting and scary.
We also played with some crossdressing again, which is something we haven't done in a very long time. It was initially a fantasy of his that I tried, but I was surprised that I liked it as much as I did. But we really haven't done much with it over a year and a half. I think it was my latest story that put it back in my mind, so I dressed him up in one of my very tight vinyl skirts and a push up bra and a wig and lipstick and had my way with him.
From the front, he still looks mostly like a man. It would take more makeup and a better wig to make a dent in that. But from the back, he looks quite feminine, and I find it sexy. This is interesting to me, because I don't think of myself as bisexual. Still, I KNOW he IS a man. It's not really that I don't find women beautiful. I find many more women attractive than men. It's just that I don't really know what to DO with women–how to hold them, tease them, seduce them. Men are very simple, and I have had a lifetime of practice with them. Women are all very different and complex.
I really like clutching him in my vinyl skirt. I hadn't realized before just how good gripping that fabric and the flesh that lies under it feels.
I also like being called daddy. 😉 Who knew?